Good news for residents and businesses in Roseville!  With our new mobile location in the city we can now offer our full range of services including window replacement, auto glass repair, and windshield repair in Roseville.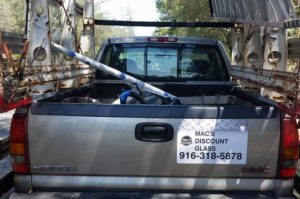 There are few things worse to happen to your car, van, or truck than a broken windshield. A small chip won't necessarily stop you driving, although it needs urgent attention before it becomes a crack that spreads across your windshield, but when the windshield is broken that's it. You can't drive until the windshield has been replaced.
We provide full windshield installation services in Roseville and we accept auto insurance work. Our chief auto glazer is Erick McNabb and he takes pride in insuring that your new windshield is installed perfectly. This means that he may take extra time, but his view is that your safety is paramount so he will never rush a job.
There are a lot of after-market auto glass manufacturers, but at Mac's Discount Glass we only provide the very best for our customers. Of course, it is not only your windshield which can get broken. A baseball out of the park might hit your door glass, or accident or theft may also result in damage to your windows. At Mac's we do it all: windshield glass, side glass, door glass, quarter glass, vent glass, back glass – whatever it is, we have you covered.
Not Just Auto Glass – Window Glass Repair Service
Of course, we don't just provide auto glass repair and installation. Maybe you are having your bathroom upgraded and would like a full mirror wall. We can install that for you. We can also provide a new shower door which can be clear glass, smoked glass, or patterned glass to your choice. Have you got a damaged glass table top? Don't worry about it: we can supply and fit a new piece of glass so that you can carry on using your table as before.
Does your sliding glass door stick and jam? Sliding glass doors that won't open or close properly can be a real pain. The problem is that they have many moving parts, and as with anything that has moving parts they wear down. You can also get all sorts of things in the rollers and runners such as mud from the yard, bird feathers, leaves in the fall, pet hairs, and more. These clog up the rollers causing the door to stick and judder. We can come out and repair your sliding glass door or install a new one for you.
Of course, it may be time to upgrade your windows and at Mac's Discount Glass we can supply and fit any type of window with our window replacement service. The very latest windows will make your home look great and reduce your utility bills as they are amazingly energy efficient.
No matter what your glass problem in Roseville, Mac's Discount Glass is only a phone call away.