At Mac's Discount Glass we are only too well aware what a pain it is suffering from broken or damaged auto glass.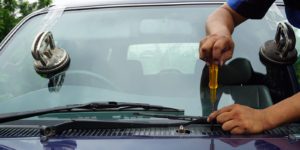 However, we are on the approved lists of many auto glass insurers and the procedure is really very simple. When you have a broken windshield, or any other auto glass, in Sacramento, North Highlands, or any of the surrounding cities, you first call your insurance company.
What they will do is to issue you with a claim number. As soon as you have got that you call us at Mac's Discount Glass with the claim number and any other information your insurance company has given you, and we take care of the rest. As soon as we have the work order from the insurance company we can then go ahead with repairing or replacing your auto glass in Sacramento or North Highlands. We also cover the surrounding cities such as Citrus Heights, Arden-Arcade, Rancho Cordova, Florin, Clarksburg, Fair Oaks, Rio Linda, Elk Grove, Carmichael, Davis, Webster, and so on.
You May Have To Pay The Deductible
There is one thing that you should note about auto glass repair in Sacramento, North Highlands, and the surrounding cities, and that is that some insurance companies require you, the customer, to pay the deductible to us and they then settle the rest.
Windshield repair is something that you just must not leave, even if it is only a tiny chip. At Mac's Discount Glass we can often repair a chip which saves you the trouble of having the whole windshield replaced, but if you leave it then a crack will begin to spread across the windshield and it will have to be replaced. The old saying is "a stitch in time saves nine" and it is very true of chips in windscreens, or chips in any other auto glass windows as well.
At Mac's Discount Glass we can replace any auto glass on any make of vehicle from the smallest saloon car up to trucks and coaches. Broken and damaged windshields on trucks and coaches mean that you cannot continue to drive them as you will risk being stopped for dangerous driving – especially if it is a coach which is carrying passengers – so it is essential to have the windshield repaired or replaced before continuing. Of course, all the time that your vehicle is out of action it is costing you money, so it is essential to get it repaired fast if only from that point of view.