At Mac's Discount Glass we can now provide all mirror glass  needs to residents and businesses in Sacramento and North Highlands. It is surprising just how often mirror glass can get broken, and if you are running a business such as a gym or a dance studio you will need urgent mirror glass replacement in Sacramento or North Highlands.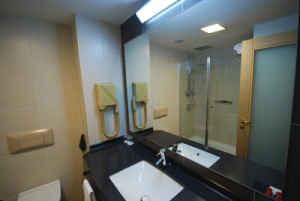 At Mac's Discount Glass we undertake all bathroom mirror repairs and replacement as well. If a bathroom mirror gets broken you have got a big problem with shaving or with putting on makeup if you can't see what you are doing, so call us for urgent service. Of course, if you own a hotel and the bathroom mirror gets broken, you cannot let that room until it has been repaired or replaced.
Similarly, if you are a hairdresser and a mirror gets broken you can't use that chair until it has been replaced, so you are losing business all the while it is not fixed.
Complete Mirror Wall Installation
At Mac's Discount Glass we also carry out complete mirror wall installation. A mirror wall is pretty much an essential for a dance studio so that your clients can see their movements and learn how to correct their faults. It is much easier to do this when you as the teacher have pointed out a movement that is incorrect and they can then see for themselves exactly what you mean and be able to correct the fault much faster.
A mirror wall installation is also great for a gym. Your customers, too, can see when they are not moving correctly and how they should change their stance or movement in order to produce that muscle tone that they wish to achieve.
Some of our customers in Sacramento and North Highlands area are now having a mirror wall installed at home. A mirror wall is great for a bathroom and it makes the space seem twice as big as it actually is, which is a particularly good idea for a small bathroom. Of course, it also has the effect of adding so much more light as well, which is an additional benefit.
Almost any business which is open to members of the public can gain benefit from a mirror wall. You can have one installed at the back of your bar if you run a restaurant, and it can have a dramatic effect on the aesthetics of the room, once again adding more light and creating the appearance of a light and airy space, even if your bar area is relatively small.