Mac's Discount Glass now has a new Sacramento location and is able to offer our full range of glass services to the half million residents and business owners of the city of Sacramento in need of glass repair services or in need of mobile glass repair.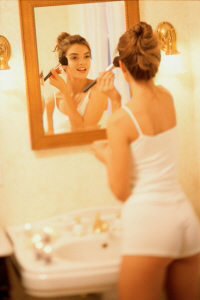 Many of our customers have been upgrading their bathrooms in the last few months and have called us in for mirror replacement in Sacramento, and some have opted for mirror wall installation. Mirror walls have become increasingly popular recently as they have the effect of making the bathroom seem twice its' real size. This can be a great benefit in what is very often a small room.
Even if you do not want mirror wall installation, a new mirror can add glamour to your bathroom, as it doesn't have to be just a plain square or oblong sheet of glass. A new bathroom mirror can be cut to any shape or size that you desire and it can have patterns etched into it. This can turn your bathroom mirror from something that is purely functional to a thing of beauty to be admired for its' own sake.
Mirror Walls Are Great For Gyms And Dance Studios
Of course, mirror wall installation can be a great idea for businesses such as gyms and especially dance studios. A mirror wall in a dance studio enables learners to see their moves as others see them which is a great way to help them improve their performance. Mirrors can also be supplied using decorative clips: mirror glass is heavy and needs plenty of support, and clips can be installed on the sides or the corners of the mirror. J bars or L bars can be used to support the bottom and top of the mirror and they are available in several different finishes such as chrome, brushed nickel, brass, and gold. For extra security, mirrors can be glued to the wall using mirror mastic.
Mirrors don't just go on walls, of course. We can fit ceiling mirrors for those who enjoy them, and we can supply fireplace mirrors, and, for businesses, foyer mirrors. Placing a mirror in the foyer of your hotel, restaurant, or bar can add extra light and make the area look much more spacious which all adds to the atmosphere and will make customers want to return.
So don't think of mirrors just as something to hang on the bathroom wall to use for your makeup or for shaving. If you get creative you can find lots of different uses for mirrors. Remember too that you can install bronze mirrors, grey mirrors, pink mirrors, and more, as well as just clear glass mirrors.