Mac's Discount Glass is now providing full Glass Replacement services to the city of Sacramento. No matter what the problem, whether it's the glass windows in your home or business, a damaged mirror, a broken glass table top, or a shattered windshield, Mac's Discount glass can fix it. In short, if it's glass, it's Mac's.
Full Mobile Auto Glass Replacement Service
We offer a full mobile auto Glass Replacement service in Sacramento, whereby we will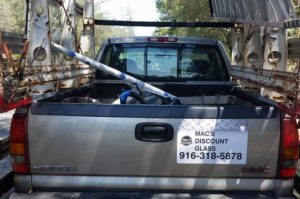 come out to you, rather than you having to drive over to a shop location.  We drive out to the cities in North Highlands or El Dorado Hills. We will obtain the correct glass item you need.  If you need auto glass, glass for windows or even table top glass we can bring it to your home or office.  This saves you time and money.  If you have a broken windshield, you don't have drive around with a damaged windshield.  We will come to your and fix it on the spot.  Save your from driving with a broken glass in your vehicle and chances of getting a fix it ticket are high.
Additional Glass Replacement Services – Home and Commercial
We can install a new shower surround for you, and we can supply a huge range of glass of different types, whether you want patterned glass for a bathroom window, or perhaps tinted glass in various different shades.
Mac's Discount Glass is a family-owned business now in the hands of the third generation of the McNabb family. Our chief installer is Lee McNabb, while Erick specializes in auto Glass Replacement with which he has twenty years' experience.